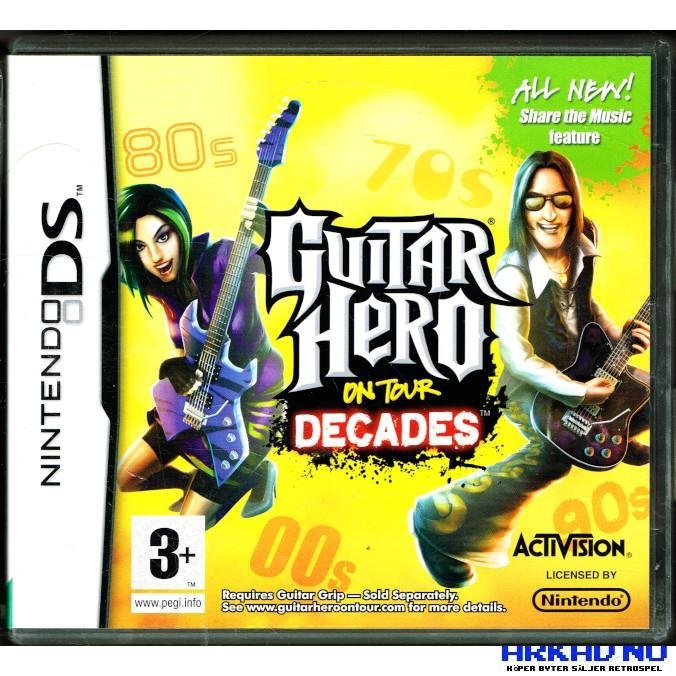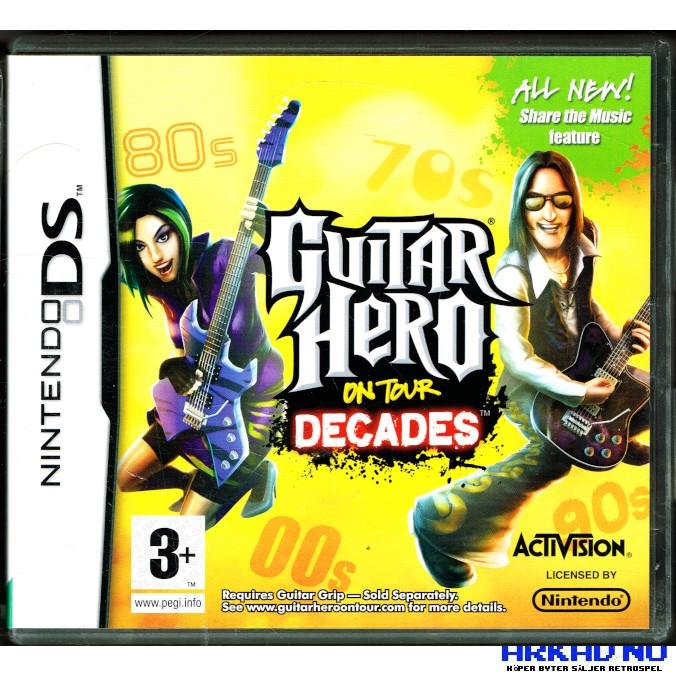 Beskrivning
GUITAR HERO ON TOUR DECADES DS - NTR-CGSP-UKV
Guitar Hero On Tour: Decades (July 15, 2008) features a path through time, offering five songs for each decade. The game includes many differences from Guitar Hero On Tour, such as new venues, songs, and returning characters, Midori and Clive Winston. Venues change the way you play the game. For example, for the '00s stage, players play on New Year's Eve in NYC, playing songs by bands like Linkin Park and Jimmy Eat World. All songs in this game are, like Guitar Hero World Tour, Master Tracks, no covers. The game will also automatically unlock the career difficulty below the one that you're working on -- in other words, if you start with Hard and complete a song, you'll also be credited with the Easy and Medium difficulty levels of that song as well. Before heading into venues, you have to choose the three different storylines in your career path: lead guitar, bass/rhythm, and guitar duels. The two-player Duel mode returns, and you can play against any DS version of Guitar Hero, and, using wireless communications, you can transfer songs and play multiplayer on that song - but as far as Vicarious Visions is concerned, you can't keep that song for Quickplay.
KOMPLETT I BOX - KRÄVER GUITAR GRIP
MAX 60KR I FRAKT VID KÖP AV FLERA PRODUKTER (SWEDEN ONLY)
Frakt med Schenker är spårbart försäkrat paket - Postnord är vanligt oförsäkrat brev
Skickar gärna fler bilder och information!
Alla spel är testade, rengjorda, spelen har nya batterier och skivor är vid behov slipade.
På begagnade produkter kan eventuella koder för nedladdning av extramaterial, online-spel och dylikt vara förbrukade.
INTERNATIONAL BUYERS ARE WELCOME.